| | |
| --- | --- |
| Compatible Canon PGI-1500XL (Front View) | Compatible Canon PGI-1500XL (Chip View) |
| | |
Compatible Canon PGI-1500XL (Top View)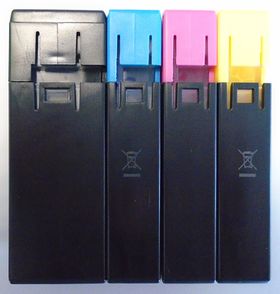 Problem: Unable To Remove The Cartridges From The Printer
These Canon printers won't allow the user to remove a cartridge from the printer unless it's empty.
Resolution
Please note: Only use these instructions as a last resort to remove the cartridges from the printer. Canon recommends that you wait until the cartridge is empty before removing the printer cartridges.
1. Unplug the power cable from the back of the printer.
2. Open the front printer cover.
3. Manually slide the printer carriage to the right hand side of the printer. (Do not push the carriage all the way to the right)
4. On the left hand side (inside the printer) you will see some white cogs. Turn the gear clockwise until it clicks.

5. Position the carriage in front of the cartridge removal section.
6. Press the button to remove the cartridge.

Problem: Error (Cartridge

missing or damaged)

The printer is reporting the error (Cartridge missing or damaged)

Resolution
Remove the faulty cartridge from the printer
Make sure all the packaging clips and blue tape covering the copper part of the cartridge has been removed from the cartridge + clean the contacts
Pull the power cable out the back of the printer and leave the printer off for 15 minutes

Problem: Printing blank pages / fading on print
Printouts are coming out very faded or blank
Resolution
If the print quality is poor or no ink is appearing on the paper then try doing 2-3 head cleans/nozzle cleans
Leave 20 minutes between each clean
All trademarks, photos and logos included on this information sheet are the property of their respective owners.