Compatible Dell Series 33

(Top View)

Compatible Dell Series 33

(Bottom View)
Compatible Dell Series 33

(Side View with Clip on)

Compatible Dell Series 33

(Side View with Clip removed)
Compatible Dell Series 33
(Chip View)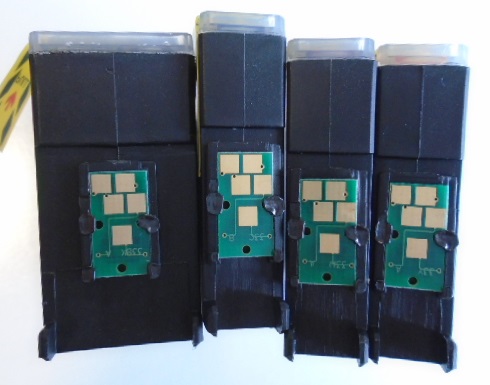 Problem: Printing blank pages
The ink cartridge printed one or two pages and then stopped printing.
Resolution
It could be that the tape that covers the breathing hole has not been removed.
Be sure the breathing hole on the cartridge has been released, this is done by removing a small rip strip so that the cartridge has air supply.

Cartridge is not recognised by printer.
Resolution
Remove Cartridges from printer, being careful not to spill ink now the cartridge is open
Using a dry lint free cloth clean the chip
Reinsert cartridge
Problem: Cartridge is the wrong size / shape to fit into the printer
The cartridges is physically a different size or shape to the cartridges already installed.
Resolution
Compatible cartridges will always look different to the original branded cartridges
They will often differ in shape or size but this does not affect the fitting or functionally of the cartridges in any way at all
---
Printers that use Dell Series 33 cartridges
To see a full list of products that work in your printer, click on the model name below:
All trademarks, photos and logos included on this information sheet are the property of their respective owners.