What the cartridges should like
Compatible Samsung MLT-D1052L-ELS (Top View)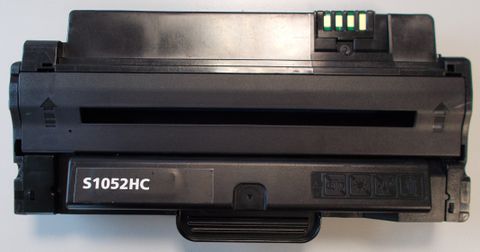 Compatible Samsung MLT-D1052L-ELS (Bottom View)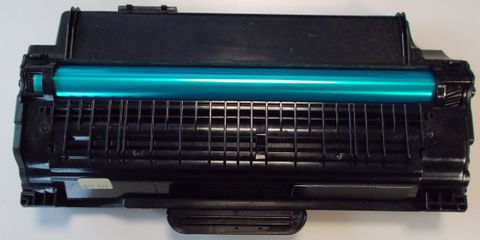 Compatible Samsung MLT-D1052L-ELS (Side View)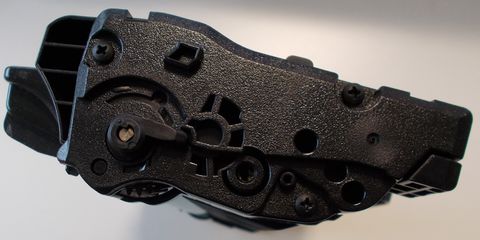 Compatible Samsung MLT-D1052L-ELS (Side View)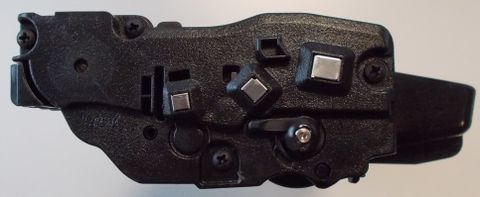 Problems you might encounter
Problem: Wrong Size
Cartridge doesn't fit in the printer
Resolution 1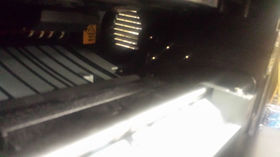 If you take a look inside a printer that uses the compatible Samsung MLT-D1052L cartridge, you'll notice four silver dots, which are actually ball bearings with springs behind them.
Apparently, the springs behind them are very poor and tend to stick or even break.
However, you can still fit the cartridge.
Because there's no give in the ball bearings it feels like the cartridge is not fitting.
As long as you push the cartridge in firmly enough then it will go in, the springs may be a bit temperamental but the cartridge does fit when pushed in correctly.
Resolution 2
It has further been discovered that the screw / stud in some cartridges is protruding about 1/2mm more than normal.
This has moved by vibration.
By using a pen you should be able to push the screw back in the cartridge so it will fit perfectly into the printer as illustrated in the following photos.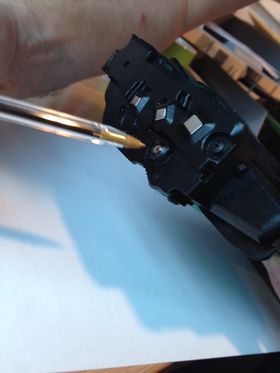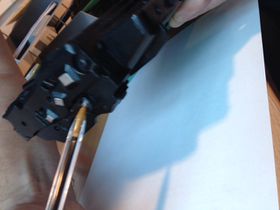 Problem: Faded Output
Printouts are coming out faded.
Resolution
If the print quality is poor, remove the toner cartridge from the printer and gently rock the cartridge from side to side.
This movement helps distribute to the toner evenly within the cartridge.
After rocking the cartridge 5-6 times, re-insert the cartridge into the printer and print a test page.
Problem: Marks on Page
Printouts has marks on page.
Resolution
If the printouts have marks on the page in a repeating pattern, remove the cartridge from the printer.
Using a lint free cloth gently clean the drum surface taking care not to touch the surface with fingers.
All trademarks, photos and logos included on this information sheet are the property of their respective owners.