The first time you use this product, you will notice that the re-usable print head and one of the ink tanks have already been assembled together.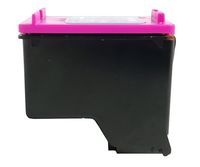 Please install the combined ink tank and print head in the printer.
Once installed, the printer should complete a calibration and then be ready to use.
Replacement procedure
When the initial Tank is empty and needs replacing, please follow the below steps:
1. Remove the combined ink tank and print head from the printer.
2. Detach the re-usable print head from the empty ink tank. To do this, press the 'Push' tab at the back of the cartridge and lift out the ink tank.
Please note: Keep the re-usable print head to one side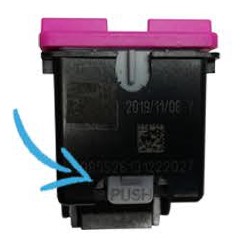 3. Remove the black clip from the base of the replacement tank and insert the ink tank into the re-usable print head.

4. Push the replacement ink tank down into the print head so it is fully in position, ensuring the chip is facing forward.

5. Carefully wipe the ink nozzles with tissue 1-2 times to ensure the ink flows through.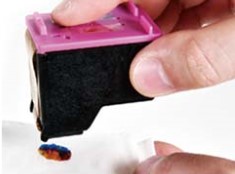 6. Install the combined ink tank and print head into the printer.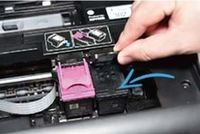 Problem: Printing blank pages / fading on print
Printouts are coming out very faded or blank
Resolution
Clean the printhead with a piece of damp kitchen tissue (Warm water)
If this doesn't work, sit the cartridge printhead on some moist kitchen roll for 20 minutes
Make sure the bottom of the cartridge (where the ink comes out of) is touching the kitchen roll

---
Printers that use Canon PG-545 & CL-546XL Ink Tanks
To see a full list of products that work in your printer, click on the model name below:
All trademarks, photos and logos included on this information sheet are the property of their respective owners.