What the cartridges should look like
Compatible Xerox 7500 (Side View)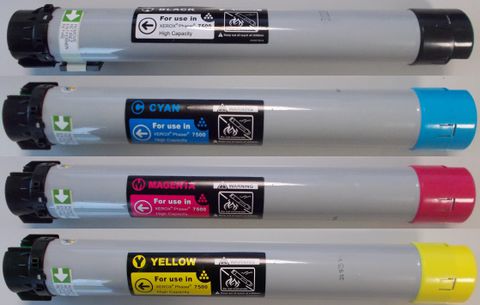 Compatible Xerox 7500 (Label View)

| | |
| --- | --- |
| Compatible Xerox 7500 (Top View) | Compatible Xerox 7500 (Chip View) |
| | |
Problems you might encounter
Problem: Faded Output
Printouts are coming out faded.
Resolution
If the print quality is poor, remove the toner cartridge from the printer and gently rock the cartridge from side to side.
This movement helps distribute to the toner evenly within the cartridge.
After rocking the cartridge 5-6 times, re-insert the cartridge into the printer and print a test page.
Problem: Not Recognised
Cartridge is not recognised by printer.
Resolution
This may be due to something obstructing the chip, please clean the chip with a dry lint free cloth.
All trademarks, photos and logos included on this information sheet are the property of their respective owners.