What the cartridges should look like
Compatible Samsung 4072 (Top View with Clip off)
Compatible Samsung 4072 (Top View with Clip removed)
Compatible Samsung 4072 (Bottom View)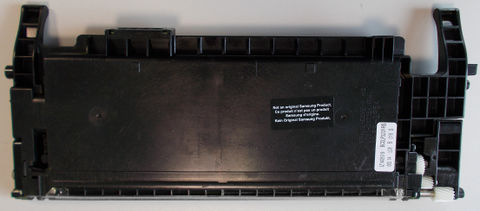 Problems you might encounter
Problem: Faded Output
Printouts are coming out faded.
Resolution
If the print quality is poor, remove the toner cartridge from the printer and gently rock the cartridge from side to side.
This movement helps distribute to the toner evenly within the cartridge.
After rocking the cartridge 5-6 times, re-insert the cartridge into the printer and print a test page.
Problem: Faded image repeated
Printouts have a faded image of the printout in the background of what they are printing.
Resolution
This is likely to be due to another component in the printer, print out a supplies page and check the life of the fuser unit, imaging unit and transfer unit.
A fuser unit and transfer unit will typically print out 50,000 if only using black ink and 12,500 if using colour, it is recommended that the replacement of either of these parts should be completed by a service engineer.
Print Configuration page and Supplies Status page
Please follow the below instructions to print the supplies/configuration pages
For the Samsung CLP-320/CLP-325 Series:
In ready mode, press and hold the cancel button for about 5 seconds until the status LED blinks quickly
Release the cancel button for the configuration pages to print

For the Samsung CLX-3180/CLX-3185 Series:
Press "Menu" on the control panel
Press the left/right arrow until System Setup appears and press "OK"
Press the left/right arrow until Maintenance appears and press "OK"
Press the left/right arrow until Supplies Life appears and press "OK"
Press the left/right arrow until the item you want appears and press "OK"
If you selected to print a supply information page, press "OK" to confirm
Press "Stop/Clear" to return to ready mode
All trademarks, photos and logos included on this information sheet are the property of their respective owners.