| | |
| --- | --- |
| Compatible Kodak 30 (Top View + Seal on) | Compatible Kodak 30 (Bottom View + Seal on) |
| | |
| | |
| --- | --- |
| Compatible Kodak 30 (Side View) | Compatible Kodak 30 (Back + Chip View) |
| | |


Problem: Cartridge not recognised
The cartridge has been installed correctly into the printer but it isn't been recognised
Resolution 1
Remove the cartridge
Wipe chip on cartridge
Perform a cleaning cycle
Re-insert cartridge

Resolution 2
Take the faulty cartridge out of the printer
Identify the carbon strip on the cartridge: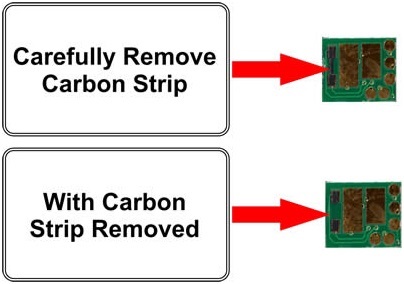 Carefully remove carbon strip with a flat head screwdriver

Problem: Fading on print
The printer is producing very faded print/ a lack of print on the page
Resolution
If the print quality is poor or no ink is appearing on the paper, try performing 2-3 head cleans/nozzle cleans
Leave 20 minutes between each clean
Problem: Printing blank pages
The ink cartridge printed one or two pages and then stopped printing.
Resolution
It could be that the seal that covers were the ink comes out has not been removed, Ensure seal is removed.
All trademarks, photos and logos included on this information sheet are the property of their respective owners.