| | |
| --- | --- |
| Compatible HP 934XL & 935XL (Top View) | Compatible HP 934XL & 935XL (Bottom View) |
| | |
Compatible HP 934XL & 935XL

(Side View + Clip On)

Compatible HP 934XL & 935XL

(Side View + Clip Removed)
Compatible HP 934XL & 935XL

(Batch Code Example 1)

Compatible HP 934XL & 935XL

(Batch Code Example 2)
Compatible HP 934XL & 935XL (Chip View)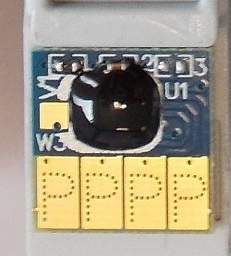 To install the cartridges please follow the steps below:
1. Open the printer lid to access the cartridges.
2. Remove the empty cartridge from the printhead.
3. Remove the pull strip from the top of the cartridge.
4. Position the cartridge upside down and carefully remove the orange clip.
5. Insert the cartridge into the corresponding slot on the printhead and press down firmly until a click is heard.
6. Close the printer lid.


Problem: Error (Replace Printhead, Printhead Missing or Printhead Problem)
The printhead is not being recognised by the printer.
Resolution
Press the Power button to turn off the printer.
Disconnect the power cord from the rear of the printer.
Wait 60 seconds.
Reconnect the power cord to the rear of the printer.
Press the Power button to turn on the printer.
All trademarks, photos and logos included on this information sheet are the property of their respective owners.