| | |
| --- | --- |
| Compatible Epson 26xl (Top View) | Compatible Epson 26xl (Bottom View) |
| | |
Compatible Epson 26xl

(Side View with Clip On)

Compatible Epson 26xl (Side View with Clip Removed)
Compatible Epson 26xl (Chip View)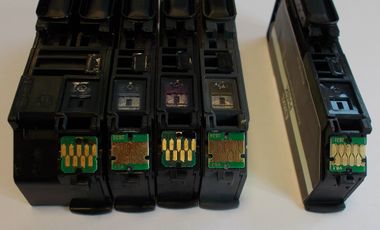 If there has been a full set of genuine cartridges installed in the printer prior to installing the new compatible cartridges then a full compatible cartridge replacement may be required if the error message (Cartridge is not compatible) appears
If this error message still appears after this troubleshooting or you don't have a full set of compatible cartridges available please consult the "Problems you might encounter" section below
This incompatible cartridge error message appears when the printer detects that there is both genuine and compatible cartridges installed in the printer
To do a full genuine to compatible replacement please follow the steps below:
1. Remove all the cartridges currently installed in the printer and turn the printer off. Leave it off for 15 minutes then turn it back on
2. Re-install a full set genuine Epson ink cartridges in the printer - These genuine cartridges can be half full or even empty
3. Once the genuine cartridges have been detected, remove and the replace them with compatible cartridges.
3a. Note: This must be done in one go


Problem: Wrong Size / Not fitting
The clip looks different or the cartridge will not click into place when installing.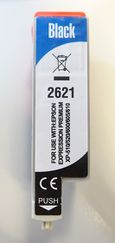 Resolution
1. Remove the affected cartridge from the printer
2. Reinstall the cartridge and press firmly where the label says shows 'push'.
3. The cartridge should now be fully clicked into place.

Problem: Error (Cartridge is not compatible)
The compatible cartridge has been installed correctly and the error message (Cartridge is not compatible) has appeared
Resolution
1. Remove the affected cartridge/cartridges from the printer
2. Clean the chip with dry cloth or tissue
3. Re-install the cartridge into the printer and press down firmly to ensure that the contacts are connected.

Problem: Printing blank pages / Fading on print
Printouts are coming out very faded or blank
Resolution
1. Go into the printers maintenance section and select "head cleaning"
2. This will perform a print head clean - this will take a couple of minutes
3. Print a Print nozzle check pattern to check the printer quality
If you don't see any improvement, repeat steps 1-3 multiple times
Note: If you don't see any improvement turn off the printer and wait at least six hours to let any dried ink soften. Then try cleaning the print head again
---
Printers that use Epson 26XL cartridges
All trademarks, photos and logos included on this information sheet are the property of their respective owners.