Compatible HP 128A (Front View)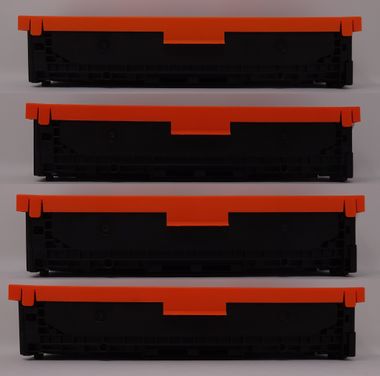 Compatible HP 128A (Back View)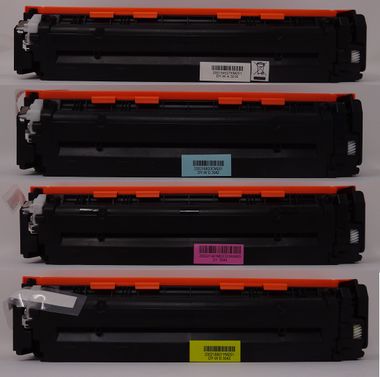 Compatible HP 128A (Bottom and Drum View)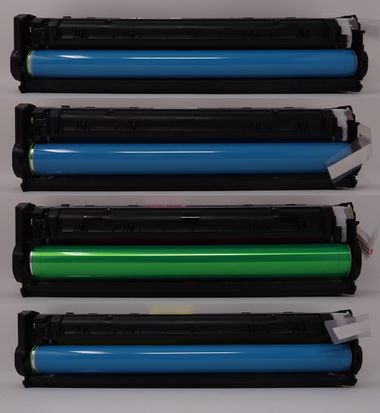 Compatible HP 128A (Top View)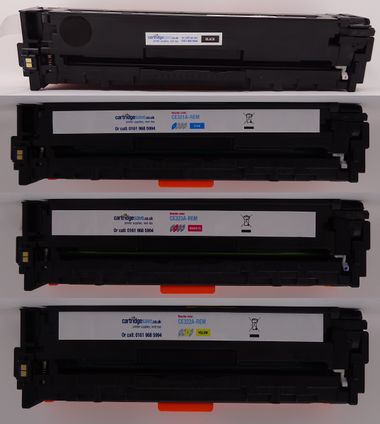 Compatible HP 128A

(Side View with Clip On)

Compatible HP 128A

(Side View with Clip Removed)
Compatible HP 128A

(Side View with Clip On)

Compatible HP 128A

(Side View with Clip Removed)
| | |
| --- | --- |
| Compatible HP 128A (Chip View) | |
| | |


Problem: Faded Output
Printouts are coming out faded.
Resolution
If the print quality is poor, remove the toner cartridge from the printer and gently rock the cartridge from side to side.
This movement helps distribute to the toner evenly within the cartridge.
After rocking the cartridge 5-6 times, re-insert the cartridge into the printer and print a test page.
Problem: Faint Characters on Printouts
Printouts have faint characters / letters appearing down the page
Resolution
Print 15-20 pages and see if the problem persists.
Problem: Specks/Smearing/Marks
Printouts have specks of toner, toner is smearing or repeated marks on the page, printing a cleaning page removes excess toner from the paper path
Resolution
Use the following instructions to print a cleaning page:
From the Home screen, press "Setup"
Load the paper when you are prompted
Problem: Dots or Streaks
Printouts have dots or streaks on the page
Resolution
Print out one or two pages this may clear the issue.
Print a "Print Quality Page"
If dots or streaks are isolated to one band of colour replace that colour.
If dots appear in more than one band replace the toner colour of the dots/ print a cleaning page
Print Quality Page
Use the following procedure to print a print quality page:
From the Home screen,on the control panel, press the "Setup" button
Press "Reports", then press "Print Quality Page"
The page that prints will contain bands of colour each relating to the different colour toners.
All trademarks, photos and logos included on this information sheet are the property of their respective owners.