How to Replace Drum Unit
It is highly recommended that you place the toner cartridge and drum unit on a clean, flat surface if possible with a sheet of disposable paper under Cartridge.
Turn on machine and open the top cover until it is locked in the open position
Take out the toner cartridge and drum unit that you want to replace - Handle the cartridge carefully, if some toner does spill on to your clothes or hands wash or wipe it off with cold water.
On the toner and drum unit push down the green lock lever and take the toner cartridge out
Put the toner cartridge in to the new drum unit until you hear it lock in to place, done correctly the green lock lever on the drum unit will Automatically lift.
To clean the corona wire in the drum unit, gently slide the green tab from left to right and back a few times. Ensure it returns to the home position so that the arrow on the slider matches with the one on the cartridge
Slide the cartridge and drum unit in to the machine, check that the toner cartridge colour matches the one on the label.
Close the top cover, and reset the drum counter.
Resetting the drum counter
Replacing a drum unit with a new one means resetting the drum counter the steps to do this are below:
Touchscreen Printers
Press "x" to interrupt the error
Press "maintenance/service button"
Press "All settings", press "machine info" then press "parts life"
Then press "#" until the massage changes, choose the colour of the drum unit you replaced
Press "Yes". This will reset the page counter for the drum unit.
Non Touchscreen Printers
Press the up arrow key while holding go on the control panel.
Use the Up or Down arrow key to display "drum unit" press ok.
Use the Up or Down arrow key to display the colour of the unit you replaced.
Press "OK", and then press on the up arrow key for reset. This will reset the page counter for the drum unit.


Problem: Faded Output
Printouts are light or faded.
Resolution
After replacing the drum unit, you may need to calibrate the printer to ensure the best performance. Please follow the below instructions to complete the calibration: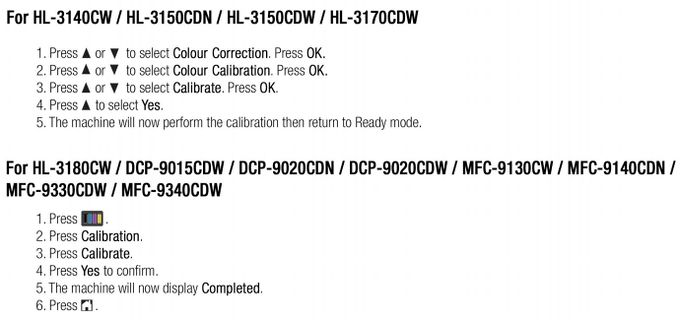 Problem: Marks on Page
Printouts has marks on page.
Resolution
If the printouts have marks on the page in a repeating pattern, remove the drum from the printer.
Using a lint free cloth gently clean the drum surface taking care not to touch the surface with fingers.
---
Printers that use Brother DR241CL drum cartridges
All trademarks, photos and logos included on this information sheet are the property of their respective owners.