The toner cartridge has been installed but the toner light is remaining on
Please Note:
The series of printer you use will alter the troubleshooting. Please use the appropriate troubleshooting for your printer.
Resolution For The HL Printer Series
1. Power off the printer and open the front cover.
2. Whilst holding down the GO button, turn the printer on.
3. When all 3 lights are lit (pictured) release the GO button and press GO twice.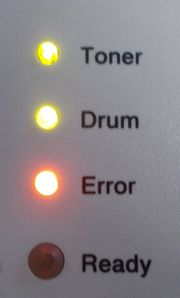 4. Once all 3 lights turn back on, press GO 5 times and wait for for the toner and drum light to turn off
5. Once this happens, close the front cover and restart the printer.
6. This will remove the toner light and allow for continuous printing
Please note:
This error message may appear more than once during the life of the cartridge
This process resets the toner levels of the cartridge. You can judge whether your cartridge needs replacing by looking for deterioration in print quality

Resolution For The DCP Printer Series
1. With the printer turned on, open the front cover to access the toner
2. Press the Clear button.
3. Press the Start button. (When you press START the screen should clear.)
4. Press the Down Arrow button.
5. Press the Up Arrow button. (When you press the down arrow an 'E0' should appear, which will change to '00' when you press the up arrow)
6. When it says accepted, press the OK button.
Please note:
This error message may appear more than once during the life of the cartridge
This process resets the toner levels of the cartridge. You can judge whether your cartridge needs replacing by looking for deterioration in print quality
Resolution For The MFC Printer Series
1. Open front cover (This will produce the message 'Cover is open')
2. Press the clear / back button (This will produce the message 'Replace drum?')
3. Press *00 (Star, zero, zero)
4. Wait for the 'Accepted' message to appear
5. This will clear the low toner error message and will allow for continuous printing
Please note:
This error message may appear more than once during the life of the cartridge
This process resets the toner levels of the cartridge. You can judge whether your cartridge needs replacing by looking for deterioration in print quality