What the cartridges should look like

Installation Instructions
To install the compatible Dell cartridges follow these 3 steps
1. Tear off the yellow tape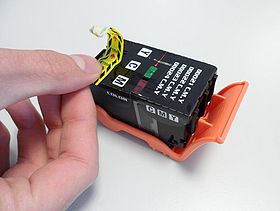 2. Remove the protection clip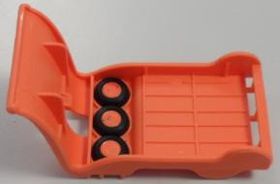 3. Install the cartridge into place and close the printer cover

Problems you might encounter
Problem: Cartridge not recognised
The cartridge is not recognised after installing it into the printer
Resolution
Follow the steps outlined on the sticker attached to the side of the cartridge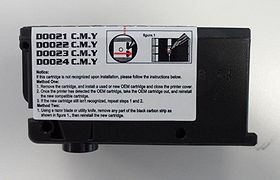 Resolution 1
1. Remove the cartridge, and install a used or new OEM cartridge and close the printer cover
2. Once the printer has detected the OEM cartridge, take the OEM cartridge out and reinstall the new compatible cartridge.
3. If the new cartridge still isn't recognised, repeat steps 1 and 2.
Resolution 2
1. Use a razor blade or utility knife, remove any part of the black carbon strip (As shown on the cartridge), then re-install the new cartridge
All trademarks, photos and logos included on this information sheet are the property of their respective owners.