Compatible Epson 29XL

(Top View)

Compatible Epson 29XL

(Bottom View + Plastic Seal Location)
Compatible Epson 29XL

(Front View)

Compatible Epson 29XL

(Back View)
Compatible Epson 29XL

(Side View)

Compatible Epson 29XL

(Side View)
Compatible Epson 29XL

(Side View - Tab Removed)

Compatible Epson 29XL

(Plastic Seal Close Up)


Problem: Cartridge not recognised
The cartridge is showing as not recognised. (See below for an example of this message)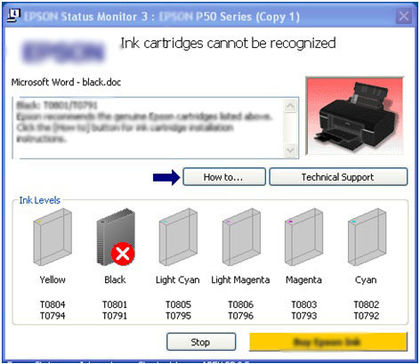 Resolution 1
This error can sometimes be displayed due the cartridge being incorrectly seated in the printer.
Remove the affected cartridge from the printer
Reinstall the cartridge and firmly press down on the top of the cartridge.
Shut the printer lid and wait for the error to disappear from the LCD display.

Resolution 2
This message is displayed when the ink runs out on a compatible cartridge to discourage the use of compatible cartridges.
The print yield of the compatible cartridge should be equal to the original.
If the cartridge hasn't reached the print yield but displays this message it could be a fault
- Remove the affected cartridge from the printer and power off the printer
- Check to see if there's ink left in the cartridge and wipe the chip with a dry cloth
- Turn the printer back on and install the cartridges one at a time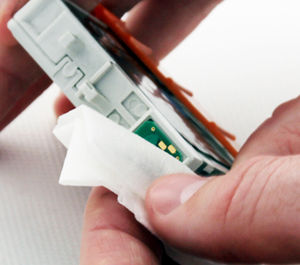 Problem: No Output/ Blank pages
Printouts are blank and have no print on them.
Resolution 1
The plastic seal will be pierced upon installation allowing ink to be used, please check that it has been upon installation if not push the cartridge firmly upon installation.
All trademarks, photos and logos included on this information sheet are the property of their respective owners.