Compatible Canon BC01 & 02 & 05

(Front View with Clip on)

Compatible Canon BC01 & 02 & 05

(Front View with Clip removed)
Compatible Canon BC01 & 02 & 05

(Top View)

Compatible Canon BC01 & 02 & 05

(Back View)
Compatible Canon BC01 & 02 & 05 (Side View)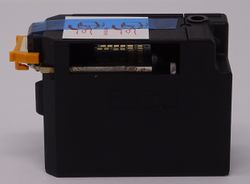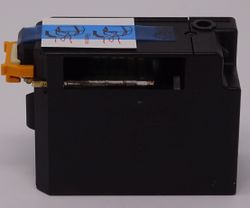 Problem: Error (Cartridge missing or damaged)
The printer is reporting the error (Cartridge missing or damaged)
Resolution
Remove the faulty cartridge from the printer
Make sure all the packaging clips and blue tape covering the copper part of the cartridge has been removed from the cartridge + clean the contacts with a dry cloth / tissue
Pull the power cable out the back of the printer and leave the printer off for 15 minutes
Problem: Cartridge reporting low/empty ink (1 of 2)
A message appears when the cartridges have been installed saying that the cartridges are empty
Resolution
1. Insert the cartridges and try to send a document to print
2. Wait until the Low/empty ink error message appears
3. With the error message still on screen, hold down the cancel button (the round button with a diamond shape in the middle) for 5 seconds (Add 5 seconds if it doesn't work)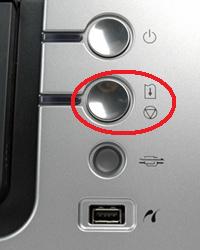 4. This should reset the cartridge and allow printing
Problem: Cartridge reporting low/empty ink (2 of 2)
Printer is not allowing printing as it believes the cartridge has been previously used
Resolution
1. After the following error message (see below) appears on your computer screen press the printers Start button once
2. This will clear the error message and allow for printing. However the ink status monitor will be disabled.
3. Print quality will have to be used to determine how much ink is left:
Note: Print quality deteriorates quickly
---
Printers that use Canon BC-01, BC-02 & BC-05 cartridges
To see a full list of products that work in your printer, click on the model name below:
All trademarks, photos and logos included on this information sheet are the property of their respective owners.