Compatible HP 85A (Front View)

Compatible HP 85A (Back View)

Compatible HP 85A (Top View)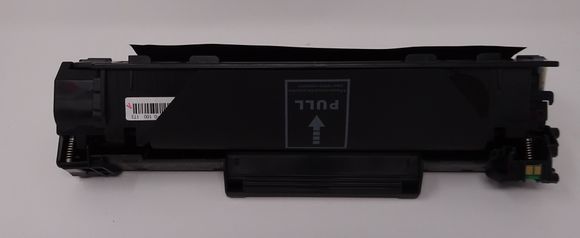 | | |
| --- | --- |
| | |
| | |
Compatible HP 85A (Chip View)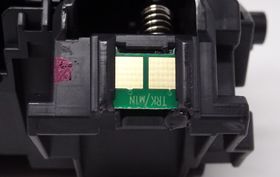 Problem: Fading on print
Printouts are coming out very faded
Resolution 1
If the whole page is light, the print density adjustment is too light or EconoMode might be turned on.
To solve this problem adjust the print density, and disable EconoMode in the printer driver.
To check to see if EconoMode is disable, please follow any one of these 4 steps:
1. At the product control panel, select the CONFIGURE DEVICE menu, and then select the PRINT QUALITY submenu. EconoMode is turned off by default.
2. In the embedded Web server, open the Settings tab and select the Configure Device option. Navigate to the Print Quality submenu.
3. In the HP Printer Utility for Macintosh, click Configuration Settings , and then click Economode & Toner Density.
4. In the Windows PCL printer driver, open the Paper/Quality tab, and select the EconoMode option.
Resolution 2
If the print quality is poor, remove the toner cartridge from the printer and gently rock the cartridge from side to side.
This movement helps distribute to the toner evenly within the cartridge.
After rocking the cartridge 5-6 times, re-insert the cartridge into the printer and print a test page.
Problem: Lines down page
Printouts are coming out with lines down the page
Resolution
It could be that there is toner on the photosensitive drum. Try printing 5-10 pages to see if this removes the lines.
Problem: Faint Characters on Printouts
Printouts have faint characters / letters appearing down the page
Resolution
Print 15-20 pages and see if the problem persists.
Printers: