Compatible Brother TN-1050 (Top View)

Compatible Brother TN-1050 (Bottom View)
Compatible Brother TN-1050 (Front View)

Compatible Brother TN-1050 (Back View with cover on)

Compatible Brother TN-1050 (Back View with cover removed)

| | |
| --- | --- |
| Compatible Brother TN-1050 (Side View) | Compatible Brother TN-1050 (Side View) |
| | |
Compatible Brother TN-1050
(Batch Code Example)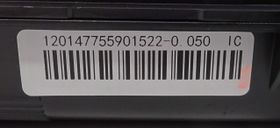 Problem: Faded Output
Printouts are coming out faded.
Resolution
If the print quality is poor, remove the toner cartridge from the printer and gently rock the cartridge from side to side.
This movement helps distribute to the toner evenly within the cartridge.
After rocking the cartridge 5-6 times, re-insert the cartridge into the printer and print a test page.

Problem: Error (Replace Toner) or Error (Toner Low)
The cartridge is reporting that it's low on ink or reporting the error message (Replace toner).
The following troubleshooting can vary from printer to printer. If your printer doesn't have the required buttons in Resolution 1, please try Resolution 2 instead.
Resolution 1
1. Open the printer lid (You don't have to hold it open, you can rest it down so long as it doesn't shut full)
2. On the control panel press the X button and the Secure button together
3. Use the arrow keys and the OK button to select the toner cartridge affected by this error
4. Press the UP arrow
5. Wait for the printer to reset the cartridge
6. The printer should automatically return to ready mode
7. Close the printer lid and you should be able to continue printing

Note: The printer lid needs to remain open during all of these steps

Resolution 2
1. With the error message on the LCD display, press the Cancel (X) button to show the main menu.
2. Press the Fax button (or the copy button on the LCD display) to make the numeric keypad visible. Then, locate and only locate the Asterisk (Star) button on the numeric keypad. (It's important to remember its location as it will not be lit up later when needed)
3. Press the Home button to return to the main menu.
4. Open the front cover of the printer (to access cartridges).
5. With the front cover open, press and hold the unlit Asterisk (Star) button for 5 seconds.
6. The reset menu will now appear on the LCD display.
7. Scroll through the menu to select a color and yield to reset.
8. The LCD will read "Accepted" once the reset is complete.
Continue Mode for HL-1110 & HL-1210 series
If the toner counter does not reset, the printer can be set to continue mode. This will allow the cartridge to continue printing regardless of the toner counter status.
To use this mode, please follow the below steps:
1. Press the power button 7 times to enter continue mode.
2. The printer should now continue printing.
Note: Press the power button 7 times to exit continue mode when required
All trademarks, photos and logos included on this information sheet are the property of their respective owners.